Want to make more interesting work?
Want better clients?
Want a better job?

Full Harbor Membership is designed to be your home base for making progress in your motion design career.
I've been teaching animation and coaching for about a year and a half, primarily through The Lettering Animation Course. And more recently I've been on over 30 video calls helping motion designers over the last couple weeks. Here is what I've learned...

You and I are a lot alike.
We love making cool things.
We love connecting with other creative people.
We also face obstacles in front of us that often feel so big that we don't know if we can go around, over or through them.
It has been AMAZING to talk to so many of you and I am making a space that feels a lot like these calls. I want you to get the advice, encouragement, direction and training you need to get past the road blocks and fears in your way.
What you'll get in Full Harbor Membership
1) Finally make that personal project
You know, the project you've wanted to make for a year or two! We're going to kick your butt into gear and get that done.
2) Learn a new animation technique every month
These will be influenced by what you, a Founding Member, want to learn
Right now, I plan on doing lessons on:

Walk cycles
Integrating 3D and cel animation into your 2D workflow
Getting the most out of the best After Effects plugins (like Motion 2, KBar, Flow, and Overlord)
3) Join live workshops on topics like:
Pricing
Attracting clients
Making a profit
Knowing when to go freelance or when to find a new job
4) Make connections with other go-getter motion designers
I seriously love connecting people in the motion design world!
When does Full Harbor Membership open?
Enrollment is open from February 11th - February 20th for Founding Members.
Orientation week is February 25th.
What's a Founding Member?
When you join next week, you will be a Founding Member. You'll be getting the best deal possible and you will literally be founding this new kind of motion membership.
How much does the membership cost?
It's going to be a $29/month.
So at $29/month, that would be a total of $348 a year.

BUT there is a CRAZY SPECIAL price for this opening week for Founding Members.
You get Full Harbor Membership for $145 for a full year!
Said another way, you get 7 months for FREE.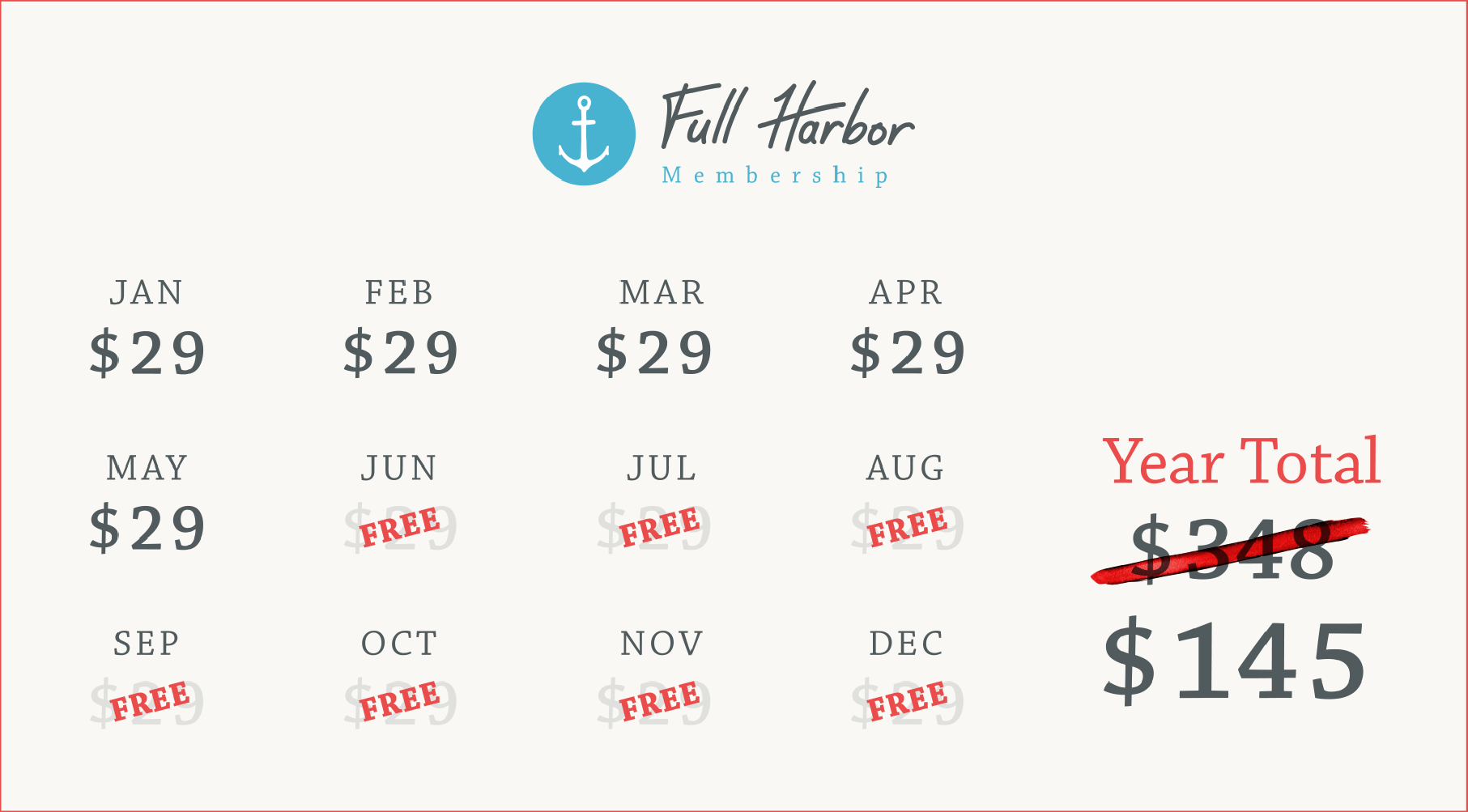 Keep this price forever
Oh, and you will be able to keep this rate forever. Even when the price goes up to $29/month ($348/year), you get to keep the $145/year price as long as you maintain your membership. And even if the price goes up in the future, you'll be grandfathered in to this price.
Two learning paths, one great membership
Note: You will have access to all content. The purpose of each learning path is to give you focus by advising you on what content you should go through next. But you are free to consume any content at any time.
#1 Designer to Animator Learning Path
This learning path is designed to help you develop your animation skills above all. At this stage, you want to put all of your energy into skill building.
This could take you 3, 6, 12+ months to nail down the fundamentals and be REALLY ready to pursue getting a motion design job or going freelance.
These numbers are vague on purpose because everyone has a different background, aptitude to learn technical things like After Effects, and time/energy to dedicate to learning animation.
Over the coming months, this learning path will be getting lots of great animation training, tips and resource advice.
#2 Leveling up Your Motion Career Learning Path
This learning path is for you if you feel like you're stalling out a bit. You've got some good motion skills under your belt, but you're just not landing the projects you want or you can't seem to get a new job that would have you doing more creative, fun work.
While stepping up your animation game is always a good idea, it could be that you're just lacking in a few other business areas.
For the Level Up Learning Path, we're going to have workshops on setting up your social profiles to attract great work, creating an effective reel and portfolio site, and reaching out to peers, producers and studios.
This could change your life
Imagine posting an animation you made for one of your favorite brands on your Instagram and website (and no, not fan art, but contracted paid art).

Imagine getting a 50% upfront invoice check that's twice as big as what you currently get paid for the total invoice. (This is where I'm at.)
This isn't a magic bullet. It takes a lot of work, trial and error, and maybe "failing" a few times. But I'll tell ya what makes it easier... having a bit of a road map that's been tested (by me) and is being tested by lots of other people. You've got a community of people that have your back. We're here to cheer you on, encourage you when it feels too hard and celebrate your wins!
I genuinely believe that Full Harbor Membership could change your life.
Click the enroll button below to become a Founding Member. Can't wait to see you in there. Oh, and don't wait because once enrollment closes on Friday February 15th Wednesday February 20th, it won't open again for about 6 months.
Timeline
February 11-20
Open enrollment to become a Founding Member at a special price of $145/year (7 months for FREE which is over $200 off!)
February 25
Full Harbor Membership begins
July '19
Membership will open for enrollment again at $29/month
So yes, I'm closing down enrollment for 6 months. This will be go time for the Founding Members. We're going to get busy working on (AND FINISHING) personal projects, upping our motion skills and building better habits that will serve us for years to come.
I want to spend 6 months helping you get RESULTS.
So if any of that sounds like a path you want to go down but feel like you're having a hard time doing it on your own, this is a pretty great time to invest in yourself.
What you'll need
Adobe Creative Cloud subscription
It will be best if you're already comfortable with Adobe Illustrator and/or Photoshop

We will use Slack for the community chat
Frequently Asked Questions
When does the membership start and finish?
Orientation week starts Feb 25th and as long as you maintain your membership, you will have access to all of the content in the membership.
How long do I have access to the membership material?
As long as you maintain your membership, you have access to all material in the membership.
What if I am unhappy with the course?
We would never want you to be unhappy! If you are unsatisfied with your purchase, contact us in the first 30 days and we will give you a full refund.